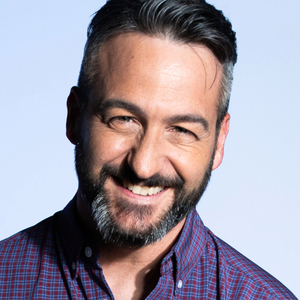 Jeff Cannata
Co-Host of DLC
As co-creator and host of the wildly successful web talk show, The Totally Rad Show, Jeff became a recognized internet personality and an authority on movies, video games, television, and comics for the hundreds of thousands of fans who watched the show. TRS was honored with Webby and Podcast awards, and was called "the best weekly video podcast - period" by Wired Magazine.
Jeff was LA correspondent for Reviews on the Run, the G4 network's daily media review program, for over 300 episodes, and has guest hosted on Daily Tech New Show, This Week in Tech, Techzilla, Breaking it Down with Catherine Reitman, and Attack of the Show, among many others.
Jeff co-created Weekend Confirmed with Garnett Lee for Shacknews.com, which was a long-running video game talk show widely regarded as one of the industry leaders, and was cohost of two shows on the powerhouse technology network, CNET: Always On with Molly Wood and Tomorrow Daily with Ashley Esqueda.
Jeff helped create the media arm of the mobile game publisher, N3twork, in Los Angeles, and produced, wrote, and starred in a wide range of shows for the company.
Jeff also hosted the Hulu Original Series, ESL: Defining Moments, an interview retrospective for the wildly popular e-sports scene.
Currently, Jeff can be heard every week on the The Filmcast, a movie review and opinion show recently named one of the "30 Best Podcasts" by Complex.com, as creator and host of DLC, the video game industry talk show, listed in Entertainment Weekly's 20 "Must Listen" podcasts, and on the comedy and science education podcast, We Have Concerns, named one of iTunes "Best of 2014" and winner of a 2016 Podcast Award for Best Entertainment Podcast.
You'll also see Jeff alongside NFL greats, rap superstars, and sports legends as co-host of the Fan Controlled Show for FCF, the streaming football league that sits at the intersection of live sports and gaming.
Finally, Jeff is considered one of the Internet's preeminent Dungeon Masters, as the driving force behind the highly regarded improvised storytelling show, The Dungeon Run.
Jeff Cannata has hosted 497 Episodes.